The Bible Views of 2008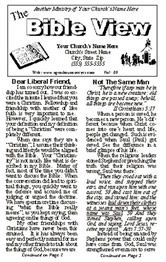 THE BIBLE VIEW is a FREE paper that anyone and every church can use. It was designed so one side can be copied on a copy machine on standard 8 1/2 by 11" paper, flipped over and have the second page copied on its back. ANY CHURCH, BUS, DEAF, NURSING HOME,CHILDREN'S SUNDAY SCHOOL, OR PRISON MINISTRY CAN HAVE ITS OWN WEEKLY NEWSLETTER! THE BIBLE VIEW makes a great bulletin insert! It is an effective way to get Bible teaching into more households and hands. Only the KJV is used!
Sign-up for the Bible View - Home Edition — the e-mail version of this newspaper!
The Bible View Content

"It's Not What It Looks Like", "Don't Judge Too Hard", "Who's on the Wrong Train?", "Quieting the Orphan Baby", "Immature?" ...

"Not on the First Christmas", "What Really Happened on the First Christmas", "Bethlehem and Calvary", "Example or Saviour?" ...

"He Gave", "Christmas Bells", "Was This His Star?", "Still No Room", "Keeping Christmas" ...

"No Place for a Christian", "Dear Liberal Friend", "Loaded Down with Harmless Things", "Siam's White Elephant" ...

"The Unofficial Meeting of the Order of Doom, Gloom, and Despair", "Can You Trust the Source", "Snail's Teeth", "Dirty Windows", ...

"Peer Pressure — the other guy "made" me do it!", "Can't Please Everbody", "What Churches Need", "Value of the Church" ...

"The Beauty of Death", "I Have Done So Little", "Divine Paradoxes", "Helping Jesus", "Moving Time", ...

"Why Should A Christian Go to Church?, "Go on With Your Knittin'", "What's The Good of Prayer?", "Hold to The Rock" ...

"What God Knows About You", "God's Care for His People", "Thank You, Captain", "The Nick of Time", "A Touch on His Shoulder", "When Every Choir Member Was Late" ...

"The Safe Place", "Windblown Christians", "Some Impossibilities", "Knowing You Have God's Promise of Heaven", "Is Alcoholism A Disease?" ...

"The Other Side of the Tracks", "Purity Dearer than Life", "Wishful Wishing", "Farewell, Vain World", "Which Disturbs You the Most?" ...

"Christian, You're Not Voting?", "Benjamin Franklin's Motion", "The Light Is Going Out" ...

"Fear Not", "Never Fear", "Prisoners of Fear", "God Never Sleeps" ...

"When You Miss Church ...", "Present in the Pew", "The Faithful Few", "The Church Is Right!" ...

"Good from Bad", "The Right Road Home", "Helped by Being Hurt", "When Weights Are Blessings", "Looking on the Wrong Side" ...

"No Little Sin", "The Tenacity of Sin", "How Sin Works", "Would We Prize the Knife" ...

"Soul Winning", "What Salvation Is Not", "At Your Door", "My Regret" ...

"Strange Things, Changes Things", "Governor's Daughters and Bobbed Hair", "Unless It Got Inside", "Robinson Wanted Not a Thing", "Bad Company" ...

"Child Training", "How Old Ought I Be?",
"School — 1957 vs. 2007", "A Lesson from the Chinese", "Two and a Half Conversions" ...

"The Wanderings of a Raging Rumor", "A Harsh Word", "Enquire Diligently", "Slander", "Speak Evil of No Man", "Why She Was Popular" ...

"Stifling Sin", "Label It 'Sin'", "Billy Sunday Fought Sin" ...

"The Pet Rattler", "Sin", "Little Sins", "The Apple with A Wormhole", "I Believe ...", "How Heavy Is The 'Burden of Sin'", "The Pressure of Need" ...

"Anger, Without Sin", "I Can't Mad Straight", "Keep Your Shirt On" ...

"On The Other Side of The Valley", "Start Using Religion", "Sunshine Through Rain" ...

"Never Satisfied", "The Unhappy Garden", "When They Found Their Man", "Be Yourself", "Contentment" ...

"It's Father God, Not Mother Nature", "Darwin's Last Hours", "World Population Count", "Piltdown Man: Greatest Hoax" ...

"Supper Is Served", "The Power of New Life", "Important Beginning", "Growing Like Christ", ...

"And What Did You Expect?", "The Crossroads", "The Stone Inside", ...

"Bound by Bitterness", "I Will Forgive, But ...", "She Brought Her Answer" ...

"Get It Yourself", "Proving It Yourself", "Search The Scriptures", ...

"We Are His Ambassadors", "What Is The Bible?", "The Long and Short of It" ...

"Unbelief, As Taught in John", "Poor Excuses for Missing Church"

"A Father's Love for His Boy", "Anger Never Pays", "Scripture on Anger", "John 3:16" ...

"How Can You Know You Are Saved?", "The Helpful Rattlesnake", "What Makes The Difference?", "Ten Little Chrisitans" ...

"How to Be Happy", "He Was Rich", "Give When There's Hardship" ...

"Partners", "No Good Thing", "Biggest Lie", "The Boys Will Laugh" ...

"Baptism", "What the Bible Says About Christening", "Works or Grace?"

"If We Could Get Unsaved...", "New Things", "I Needed The Quiet" ...

"When God's Anger Was Hot", "Do What God Would Have You Do", "Bright Lights and Salt Shakers" ...

"What A Christian Can Miss", "How to Pray", "How They Prayed" ...

"I Cannot And I Won't", "Love of Money", "What Are You Living For?" ...

"Weed Just In Front of You", "He Will Calm Your Sea", "Worry: Matthew 6:25-34"

"An Early Start", "He Will Roll The Clouds Away", "Jesus' Names" ...

"It Will Turn Up", "No Matter What They Decide", "How to Be Forgiven" ...
Current BIBLE VIEWs
2022 BIBLE VIEWs
2021 BIBLE VIEWs
2020 BIBLE VIEWs
2019 BIBLE VIEWS
2018 BIBLE VIEWS
2017 BIBLE VIEWs
2016 BIBLE VIEWs
2015 BIBLE VIEWs
2014 BIBLE VIEWs
2013 BIBLE VIEWs
2012 BIBLE VIEWs
2011 BIBLE VIEWs
2010 BIBLE VIEWs
2009 BIBLE VIEWs
2007 BIBLE VIEWs