Daily View Devotional
A Source for: * Sunday School Lessons * New Testament Devotionals * Sermon Ideas * Bible Studies *
The Daily View is a five day-a-week devotional. Read one KJV chapter each day and learn something from what is read. It is also an ideal source for Sunday school lessons for adults, teens, and sermon ideas.
Daily Devotion of Psalm 100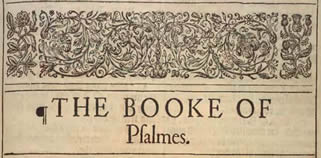 Daily Nugget:
"Serve the LORD with gladness: come before his presence with singing." Psalm 100:2
What a promising, hope-filled life a Christian should be leading. On so many faces, however, one would never know it. 
One looks into the eyes of many Christians and the joy of being a born-again believer is not seen. Watch their lives, and one will notice little difference between how they live and how the unsaved behave.  Listen to their speech and one will even notice that there is so little variance between what they say and what the lost say.
The "gladness" spoken of in Psalm 100:2 is missing in their life.  They have either forgotten about it,  never knew it, or may not be a born-again believer.   If they are saved, the reality that they are a child of God has not become a life-changing experience in their life, and it should.
Christian, remember that you have God's promise of Heaven. Grasp that you have an eternity with the Lord and other saints of God. That better make you "glad." The unsaved can never have that assurance.
Those trusting Christ as Saviour also have God's protection, and only what He allows can happen in your life.  No matter your difficulty, you have a heavenly, watching Father that can change situations, answer prayers, bless your life, use you for His glory, guide you in the right direction, forgive you when you sin, meet your daily needs, and He will always love you.
How can a child of God not have "gladness," after having so much?  We deserve nothing but the Lake of Fire for our sins, but He has given us a future in Heaven.
God is so good.  Instead of complaining and not appreciating who you are and what you have, be "glad." Do not envy the temporary enjoyments the ungodly seem to be having pleasure in doing. Count your blessings, and the heartaches and hardships will seem so insignificant.
Today's Thought:
"Thank God every morning when you get up that you have something to do that day which must be done, whether you like it or not.  Being forced to work and forced to do your best will breed in you temperance, self-control, diligence, strength of will, cheerfulness, contentment, and a hundred virtues which the idle never know." — Kingsley

Today's Reading:
Psalm 100
1 A Psalm of praise. Make a joyful noise unto the LORD, all ye lands.
2 Serve the LORD with gladness: come before his presence with singing.
3 Know ye that the LORD he is God: it is he that hath made us, and not we ourselves; we are his people, and the sheep of his pasture.
4 Enter into his gates with thanksgiving, and into his courts with praise: be thankful unto him, and bless his name.
5 For the LORD is good; his mercy is everlasting; and his truth endureth to all generations.
To read other chapters and books, go to the drop-down box at the top of the page.