Daily View Devotional
A Source for: * Sunday School Lessons * New Testament Devotionals * Sermon Ideas * Bible Studies *
The Daily View is a five day-a-week devotional. Read one KJV chapter each day and learn something from what is read. It is also an ideal source for Sunday school lessons for adults, teens, and sermon ideas.
Daily Devotion of Psalm 127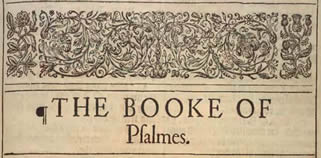 Daily Nugget:
At first readings, this Psalm seems to be about two separate subjects. However, since it is all one unit and no paragraph separations (¶) are included, which usually is seen when ideas in a chapter change, all that is read must be one teaching.
Other commentator's insights did not help me understand the connections of what seem to be two different pieces of wisdom, either.  The writers that I read often contradicted each other's ideas and seem to have a mishmash of theories on what this chapter teaches.  One writer (J. Vernon McGee) stated that it was for a different Solomon than David's son, without how he came to his conclusion. The more I studied, the more I was confused.
Although it appears to be scattered thoughts, I believe Psalm 127 is one idea. The first two verses tell of three things that are a waste of time ("vain") without God's help and approval. 
Except God is the foremost authority, director, and guidance in building a "house," it will not last.  What all the writers I read failed to point out is the "house" here is often used to describe a family. The same Hebrew word used here ("bayith") for "house" is also used in Deuteronomy 25:9, where it is clearly referring to a family. Now with that understanding, verses 3-5 are connected to the first verses. This chapter is talking about building a family that puts God first in all aspects.
Not only is it often futile in raising a family without God, but it is also can be an exercise of vanity to think a city where we are living is safe and protected without His help (Psalm 127:1).  Often, even our hard work and efforts to better our lives can be for naught unless, again, God is involved. God's way should be paramount in all we do, especially in raising a family.
Although we try most of our lives to better our life and labor for rewards in this life.  God's reward and heritage are our families (Psalm 127:3).  It is our offspring that will bless us.  They will be our future protection and help when we are old (Psalm 127:4). A large family will make one happy (Psalm 127:5); the more the merrier.
The moral of this Hebrew hymn is that what man strives to make for himself may often be empty and pointless ("vanity").  What we try to build or get, without God being involved, may be useless in our future. It is the family that God blesses us with is that has a higher value in God's eyes.  He gave them to us.  We should concentrate on involving God in building the family and allowing Him to be involved in every aspect of it.

Today's Thought:
"We cannot continue to send our children to Caesar for their education and be surprised when they come home as Romans."  — Voddie Baucham
Words to Understand:
Vain: empty; pointless; without real, enduring value
Today's Reading:
Psalm 127
1 A Song of degrees for Solomon. Except the LORD build the house, they labour in vain that build it: except the LORD keep the city, the watchman waketh but in vain.
 2 It is vain for you to rise up early, to sit up late, to eat the bread of sorrows: for so he giveth his beloved sleep.
 3 Lo, children are an heritage of the LORD: and the fruit of the womb is his reward.
 4 As arrows are in the hand of a mighty man; so are children of the youth.
 5 Happy is the man that hath his quiver full of them: they shall not be ashamed, but they shall speak with the enemies in the gate.
To read other chapters and books, go to the drop-down box at the top of the page.