The Bible Views of 2011
THE BIBLE VIEW is a FREE paper that anyone and every church can use. It was designed so one side can be copied on a copy machine on standard 8 1/2 by 11"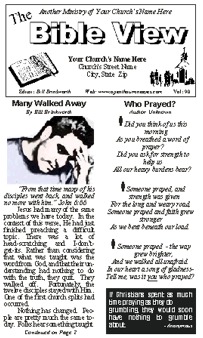 paper, flipped over and have the second page copied on its back. ANY CHURCH, BUS, DEAF, NURSING HOME,CHILDREN'S SUNDAY SCHOOL, OR PRISON MINISTRY CAN HAVE ITS OWN WEEKLY NEWSLETTER! THE BIBLE VIEW makes a great bulletin insert! It is an effective way to get Bible teaching into more households and hands. Only the KJV is used!
Sign-up for the Bible View - Home Edition — the e-mail version of thisnewspaper!
| | | |
| --- | --- | --- |
| | The Bible View Content | Theme |
| | "New Things", "A New Captain", "Came to Scoff, But Remained to Pray", "Keep Out the Light" ... | Spiritual Changes |
| | "God Gave", "Keep Christ in Christmas", "What Do People See in You?", "What REally Did Happen on the First Christmas?" | Christmas |
| | "Jesus' Birth", "Prophecies about Christ's Birth", "Costly Christimas", "The Borrower", "His and Our Birth" ... | Christmas |
| | "The Star in God's Window", "What Did Not Happen on the First Christmas", "When Christmas Was Forbidden", "Christ, the Light of the World", "For Christ Has Come", "Christmas in 'No Man's Land'" ... | Christmas |
| | "Lies People Tell Themselves", "Troublesome Lies", "Three Will Know", "Reward of Honesty" ... | Lies |
| | "Vexed by Ungodliness", "It Will Rub Off on You!", "Seek the Better Things", "Get Far from Evil" ... | Separate from Sin |
| | "We Gained It All", "Christian, in Name Only", "God's Way" ... | Being a Christian |
| | "Control That Tongue!", "The Wanderings of a Raging Rumor", "A Harsh Word", "The Sinning Tongue" ... | The Tongue |
| | "The Heartbeat from Another", "We Are Wanted", "Jesus, theDoor", "For His Son's Sake" ... | Jesus |
| | "Our High Priest", "A Mother's Sacrifice", "Sacrifice and Service", "Three Sacrifices", "Christ's Last Will and Testament" ... | Sacrifice |
| | "To Be With Christ Is Far Better", "Only the Shack Was Destroyed", "Roll Call", "Death", "God Will Be With Us", "Nothing to Fear" ... | Death |
| | "We're All Sinners", "Sin, the Tyrant", "Sin, the Deceiver", "Curse of Sin", "Deceitfulness of Sin", "What Forgiveness Did" | Sin |
| | "Safe, Close to Jesus", "Be Not Afraid", "When Fear Is Sinful", "Fear of God", "Psalms 37:3-7", "Made in God's Image" | Fear |
| | "Bee Gone!", "Thoughts on Cancer", "What Chruch is to Me", ... | Assorted |
| | "Listening for the Trumpet", "Hold the Fort, for I am Coming!", "Fault Finding", "The Christian's Ruby Ring" ... | Assorted |
| | "Think on These Things", "Trials Can Save Us", "Our Burden Carrier", "It's Better If It's Broken" ... | Trials |
| | "An Early Start", "Won by His Parent's Love", "Too Little?" ... | Children |
| | "Some Good Advice", "Wisdom from God's Word", "Seek God's Wisdom", "Getting Advice", "Guidance", "Seek God's Wisdom" ... | Advice |
| | "A Father's Love", "Love Was the Difference", "Real Love", "Too Busy to Love", "A Father's Heart", "Jesus Cares", "He Lets God Care" ... | Love |
| | "Why Me?", "God Knows the Way", "'The Bad' Times", "In Moody's Bible" | Hard Times |
| | "What Do You Do with the Message?", "Convictions Purpose", "Why Conviction is Necessary", "Never-ending Guilt", "Conviction of Sin", "Angry at First, Saved at Last" ... | Conviction |
| | "A Child's Answered Prayer", "In Jesus' Name", "Revival through Prayer", "Answered Prayer", ""He Asked A Lot" ... | Prayer |
| | "Spirtual Gluttony", "The Hedge on the Way to the Mansion", "The Natural Man" ... | Doers of the Word |
| | "Reasons for Going", "I'm Outa There!", "The Atheist Went to Church", "Not Offered Anywhere Else", "The City Church" ... | Going to church |
| | "Unacceptable Payment", "Just Ask for Them!", "God Does the Saving", "His Part and God's", Whosoever and Whatsoever", "Necessary and Enough" ... | Good works will not save anyone! |
| | "I Should've Done It Right the First Time", "A Better Work", "A Child's Song", "Obey God" | Obedience |
| | "Working with the Boss", "You Do a Great Work for the Lord", "Keep On Keeping On", "The Faithful Teacher", "The Deer Hunter" | Working for the Lord |
| | | Judging |
| | "Asleep on the Job", "Training Children", "Importance of a Christian Witness in the Home", "Divided We Fall", "The Price" ... | Parenting |
| | "Knowing God's Will", "Whose Fault?", "A Father's Prayer" ... | Assorted |
| | | Serving the Lord |
| | "Who Is Your Leader?", "Don't Go Back!", "Hymn Writer Loses Joy of Salvation", "Degrees of Backsliding" | Getting Far from God |
| | "Who Will Tell Them?", "What Preaching Can Do", "More Ink", "Kinds of Preaching", "Getting Ready to Preach", "What to Preach" ... | Preaching |
| | "Tell Them about Jesus!", "Suppose", "Talking Business", "Soul Winning" ... | Soul -winning |
| | "The 300th Bible View", "Treatment of an Enemy", "Anyone Can Fall", "The Word, 'Kindness'", "Kindness", "The Power of Kindness" ... | Kindness & Commemorating the 300th Bible View! |
| | "Producing Any Fruit?", "Godly Fruit", "Fruits of the Flesh", "He Thought He Lost His Arrow", "What One Tract Did", "What Can You Lend" ... | Producing Christian Fruits |
| | "There Is Another Side of The Valley", "Start Using Religion", " "Sunshine Through Rain" ... | Going Through Hard Times |
| | "Not Just a Man", "The Prophesied One", "The Door", "Who Jesus Is", "What Christ Is to the World" | Who Jesus Is |
| | "Not One of His — The Sad Story of Judas Iscariot", "The Leopard in Us All", "It's Not So Safe After All", "Lift the Anchor" ... | Sin Can Cause Anyone to Fall |
| | "Why Read It?", "It's of God!", "What They Said about the Bible", "If the Bible Is Removed", "The Bible" ... | Obeying the Word of God |
| | "Jesus Was Tempted", "Avoid Temptation", "Always be Wary!", "The Tempter Knows", "Tempted", "Why We Can be Tested", "Making Provision doe the Flesh" ... | Temptation |
| | "Clouds and Sin", "If Eve Had Said, 'No!'", "The Tree-killing Worm", "The Curse of Sin", "Love of Sin" ... | Repentance |
| | "A Godly Example?", "What Kind of Example Are You?", "A Christian Home", "Won by His Wife's Faith", "A Father's Example" ... | Our Testimony |
| | "Saved for Sure!", "Salvation, Not by Good Deeds", "Salvation by Faith and Grace", "Faith and Reason" | Eternal Security |
| | "Follow the Detour", "Wisdom of Trials", "Help in Trials", "Because He Loves Us", "Tests", "Protection" ... | Trials |
| | "Should a Christian Tolerate Sin?", "Too Late", "The 'Insulted' Man", "You Are Not Alone" | Toleartion of Sin |
| | "Give", "Put the Money in His Hand", "Un-voluntary Giving", "A Giving Testimony", "Giving", "Keeping Money" ... | Giving |
| | "Waivering Faith", "A Dirty Telescope", "Faith Training", "Jumping into Father's Arms", "The Reflecting Waters", "Dead Faith", "Christ, Our Guide" | Faith |
| | "Wet Wood", "The Keeper's Light", "Bad Choice", "Gone, and Missed", "Start Doing" ... | Christian Example |
| | | Hell |
| | "Not What I Got", "Never Enough", "Always Looking Down", "When I Met Jesus" ... | Coveting |
Current BIBLE VIEWs
2022 BIBLE VIEWs
2021 BIBLE VIEWs
2020 BIBLE VIEWs
2019 BIBLE VIEWS
2018 BIBLE VIEWS
2017 BIBLE VIEWs
2016 BIBLE VIEWs
2015 BIBLE VIEWs
2014 BIBLE VIEWs
2013 BIBLE VIEWs
2012 BIBLE VIEWs
2010 BIBLE VIEWs
2009 BIBLE VIEWs
2008 BIBLE VIEWs
2007 BIBLE VIEWs