Who Is Jesus?
Bill Brinkworth
Today, Jesus is the key to anyone's getting into Heaven. Since having faith in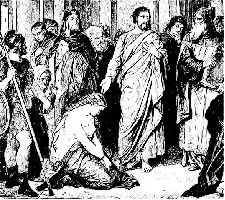 Jesus, and what He has done for us is important, it is essential to know who He is, and what He has done.  Here is some of what the Bible says about Jesus, the Saviour of mankind:
Jesus was the prophesied Messiah that God promised to send.  Some of the 300 plus prophecies about the Messiah include:
It was prophesied  about  599 B. C. (years before Christ was born), that  the Messiah ("anointed", "consecrated one") would come from the lineage of King David (Jer. 23:5-6, Mat. 1:1, Luke 3:23-38, Acts 13:22)
Jesus' purpose was foretold to His earthly father (Joseph) before Christ was born
(Mat. 1:21)
It was foretold more than 1,020 years B. C., that man's Saviour would ask God why His heavenly Father turned His head and did not stop Christ's death.  (Psalm 22:1, Mat. 27:46)
It was foretold, approximately 1,020 years B. C., that the Messiah would have his hands and feet pierced.  (Ps. 22:16, John 20:25)
It was prophesied, at least 1020 years B.C., that the Saviour would not have any of His bones broken. (Psalm 34:20, John 19:36)
It was also foretold, about 1020 years B. C., that the Son of God would not say a word to His prosecutors. (Isaiah 53:7, Mat. 26:63)
Jesus preached and taught God's message. (Mat. 4:17, Mat. 4:23, John 7:16)

Jesus performed miracles. He did things only a divine person could do.
Lepers were healed. (Mat. 8:3, Luke 17:11-19)
Jesus healed the lame. (John 5:8,Mat. 15:30)
Jesus healed blind Bartimaeus  (Mark 10:46-52).
Jesus healed a paralyzed man (Mat. 9:2-8).
Jesus healed a man with a withered hand (Mark 3:1-5).
Jesus raised the dead (Luke  7:11-16).
Jesus cast out demons (Mat. 12:22-37, Mark 5:13).
Jesus walked on water (Mat. 14:22-33).
Jesus knew the thoughts of people around Him. (Mat. 12:25)
Jesus rose from the dead (Mat. 28:2-10, Luke 24:34) and appeared to many after He rose from the dead (John 20:26-29, John 21:1-2).
Jesus ascended back to Heaven. (Mark 16:19-20, Luke 24:51, Acts 1:9-11)
He performed many more miracles (John 21:25).

Jesus is God's only son. This is why He could do all the miracles He did.
"For God so loved the world, that he gave his only begotten Son, that whosoever believeth in him should not perish, but have everlasting life." John 3:16  (John 3:18, John 4:15,I John 4:9, Acts 3:13, Mat. 16:20, Mat. 8:29)

Why Jesus is so important:
Jesus was sent  so man would know the Truth, and so they did not have to live in sin.
"Then spake Jesus again unto them, saying, I am the light of the world: he that followeth me shall not walk in darkness, but shall have the light of life." John 8:12   "Darkness" is referring to sin. When a person is saved He does not have to sin.  Sin is always a choice.  Knowing the truth from God's Word can keep us from making the wrong choices.
Jesus is man's only way to Heaven.
"Jesus saith unto him, I am the way, the truth, and the life: no man cometh unto the Father, but by me." John 14:6 (John 10:9, Acts 16:31, Rom. 10:9, Acts 15:11, Gal. 2:16)
Jesus' death on the cross is the only payment for man's sin that God will accept.  One's good deeds, kindness, goodness, traditions, or following religious ordinances and rules will not get anyone to heaven!
"There is therefore now no condemnation to them which are in Christ Jesus, who walk not after the flesh, but after the Spirit." Rom. 8:1 (I Thes. 4:14, Heb. 2:9, Ephesians 5:2, Titus 2:14, I Tim. 2:6, Mat. 28:20) 
Jesus was God in the flesh.  Jesus and God are one! This is the teaching of the Trinity.  God is three in one — the Father, Son, and Holy Spirit.
"I and my Father are one." John 10:30 (Philippians 2:6, I John 5:7)
Jesus was sinless.  Only one born supernaturally, as was Christ, could be without sin.  Jesus' sinlessness was necessary so He could be an acceptable payment for our sins. Only Jesus was sinless.  All others born on this earth are guilty of sin.
"And being made perfect, he [Jesus] became the author of eternal salvation unto all them that obey him;" Heb. 5:9 (Heb. 9:14, I Peter 1:19)
Jesus was God's gift to man.
"For the wages of sin is death; but the gift of God is eternal life through Jesus Christ our Lord." Rom. 6:23  (John 13:3, John 8:42, John 12:44)

Jesus was not just a man as some claim.  He was God in the flesh come down to this Earth, to die for man's sins.  All that believe and accept what Jesus did for them, when He died on the Cross and rose again from the dead, can be saved.
That is why making Jesus one's personal Saviour from the punishment for our sins is so important.  Jesus is the only way anyone will get to heaven.  There is nothing we can do to earn Heaven.  It has all been done for us by Jesus.  All we have to do is believe He died for us, believe that He rose again from the dead on the third day, and ask Him to be our Saviour.  If you have never been saved, and you believe Jesus died for you and rose again, you can ask Him to be your Saviour right now!

"That if thou shalt confess with thy mouth the Lord Jesus, and shalt believe in thine heart that God hath raised him from the dead, thou shalt be saved."
Rom. 10:9
This article was featured in The Bible View #526.