The Empty, Front-row Seat
 "For Demas hath forsaken me, having loved this present world, and is departed unto Thessalonica; Crescents to Galatia, Titus unto Dalamatia.  11 Only Luke is with me…" II Timothy 4:10-11
After I was saved in 1979, I was excited about going to church, especially after finding the church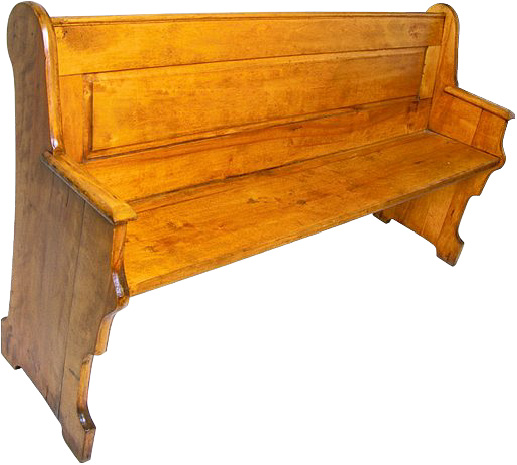 God wanted me to join.  I was very shy; so like many, I sat towards the back of the church. I listened very intently and learned very much.  Attending church was like sitting at a table and eating a steak dinner.  I was fed spiritually, and I did not want to miss a meal.
However, something happened to change where I sat.  One Sunday, as the preacher began to preach, the woman sitting next to me reached down under the pew and pulled out a good-sized paper bag. She opened the distracting, noisy bag and proceeded to pull out her lunch.  She even opened a Thermos and poured herself a hot cup of coffee. Between the eating of her sandwich, loudly slurping her java, and crunching on a crispy apple, I was very distracted and got little from the much-wanted message from God.  I was determined that I would not be robbed from hearing the message God had for me again; so after that service, I changed where I sat.  Whenever the seat was available, I sat on the first row.  I did not want to miss a word God had given the preacher to deliver to me.
While sitting in the first row, I observed something very encouraging.  Many others, mostly new converts, would also get serious about wanting to hear God's message, and they soon sat on the front row.  Many sat next to me.  I got friendly with many of them, and even went on Thursday night, church-wide visitation with some of them. They also fervently wanted to obey and do something for the Lord.
However, their love for the service and hearing God's Word changed.  They no longer commented on how it was a great service and how God spoke to their heart about a matter in their life.  Soon they had all kinds of excuses for not wanting to join me in the visitation ministry.  It was not long before they started missing services, and soon they stopped coming to church completely.  I would visit them at their houses to encourage them to come back again, but ultimately their seat next to me on the front row remained empty.
I miss those friends, but most of all I miss seeing others get excited about their salvation and being eager to serve the Lord.  Paul, in II Tim. 4, experienced the same feelings when Demas, and possibly others, no longer "sat in the front row" with him, so to speak.  I am sure he was grieved to see that the temporary things of this world had a greater meaning to Demas than obeying and serving the Lord.  Although forsaken by Demas and others, Paul continued and was greatly used of God.
Have you been discouraged that another Christian is not serving the Lord as he used to?  Do not be.  Encourage them if you can.  Pray for them, but continue to "sit in the front row".  I'm still there, and I saved you a seat.
"Wherefore seeing we also are compassed about with so great a cloud of witnesses, let us lay aside every weight, and the sin which doth so easily beset us, and let us run with patience the race that is set before us, 2 Looking unto Jesus the author and finisher of our faith; who for the joy that was set before him endured the cross, despising the shame, and is set down at the right hand of the throne of God."  Hebrews 12:1-2
This article was featured in The Bible View #621.